Kennel Argenta
Our aim is to breed for health, beauty and temperament. For us, the obvious goal is to take care of the breed
and hand over a nice foundation to work on for future breeders.


When breeding we follow the breed club's and the Kennel Club's breeding recommendations. All our breeding stock are hip x-rayed and has HD 0, HD A or HD B which is approved for breeding. In our Miniature Schnauzers we check the eyes and they should of course be healthy.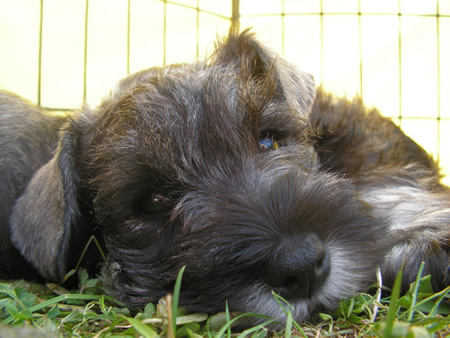 We believe that it is equally important to broaden the genetic base to prevent any disorders in the breeds. We are therefore searching for new bloodlines all over the world which has resulted in many very nice and important imports during the years.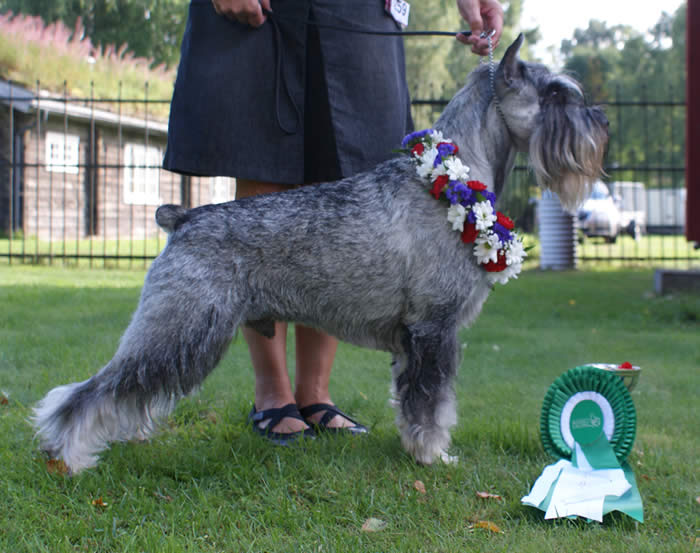 Equally important is to use males and females that are easy to breed and females that easily whelp and take good care of her puppies.The bitches are obviously vital for puppies and train them according to their own experiences.
We regard it as equally important to enrich the puppies' environment when we have them in our care. This is to lay the foundations for social, independent, playful and willing to work Schnauzers.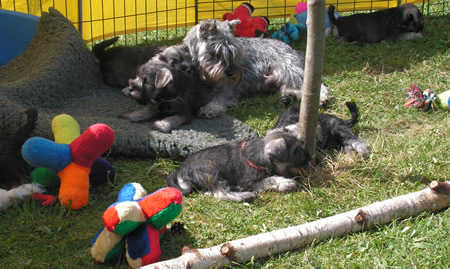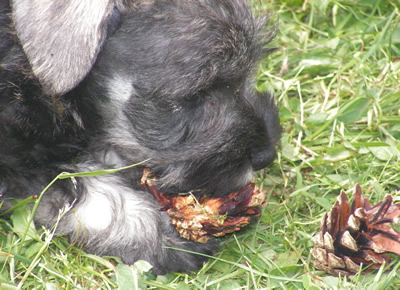 How to breed puppies can be read in many books, but with our experience we have found, the solutions that fit the breed and our own puppies the best.
In the beginning the mother and her puppies will be left in peace under a watchful eye from the family.  They will then gradually be introduced into the daily life with the family that also includes a few adult dogs. With a large and lively family there will always be a lot of "happening", so the puppies will never suffer of any lack of interaction with people and other dogs.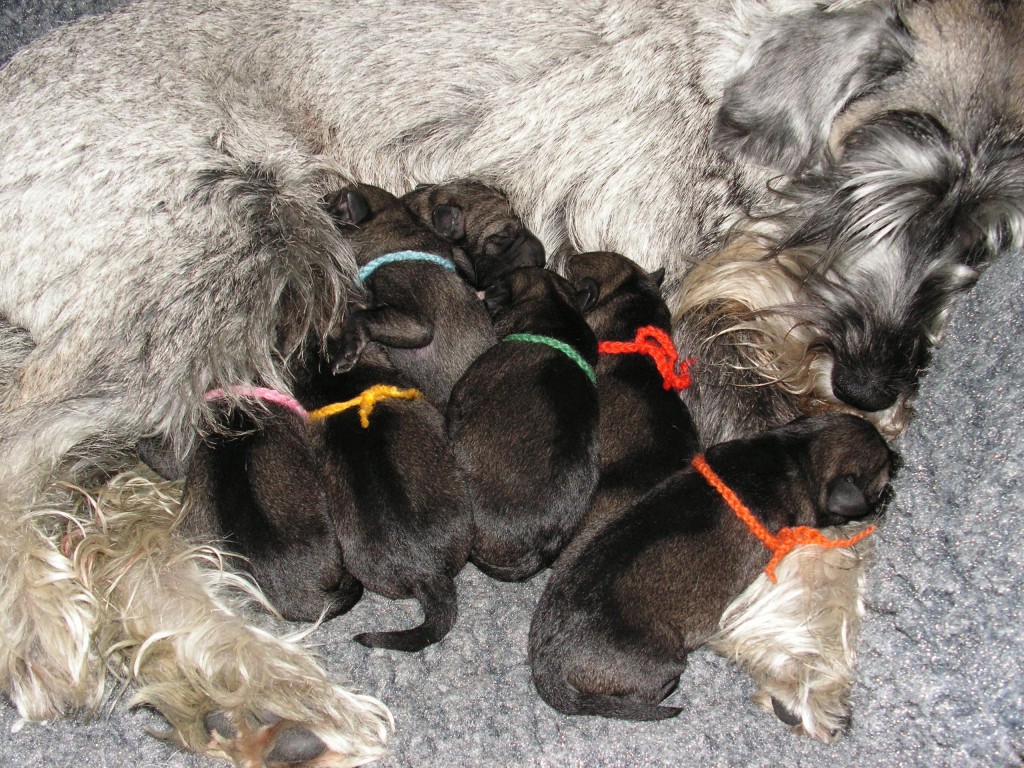 Our goal is to give the puppies social competence and a lot of experience in a life full of adventure combined with time to relax during their puppyhood. We know by experience that this will give the puppies valuable experiences that they will find useful in life.
The puppies have their very own "adventure park" full of things to play with and exciting new stuff pops up every now and then.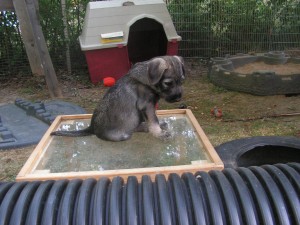 Just before delivery, we do a small mentality test of the pups. Usually it turns out be as we have seen during the eight first weeks.
It is also useful as we can give the new puppy owners some tips and ideas on how to work with their puppy in order to maintain and obtain the best properties.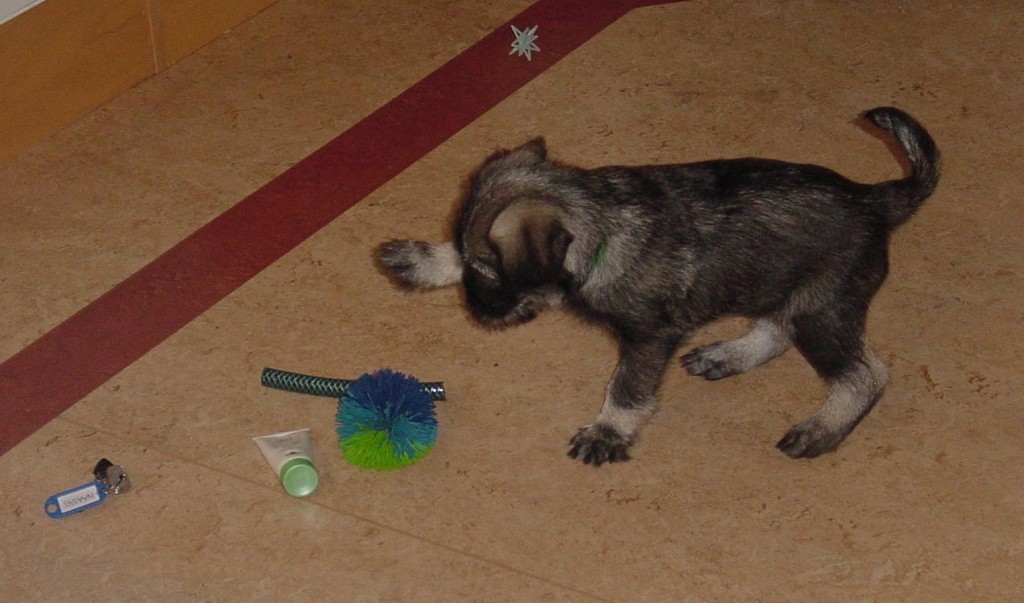 Upon delivery you get all the documents required: pedigree, sales contract, all health documents including the proof of vaccinations. You will also receive a puppy brochure with a lot of useful information. In addition, you get many other interesting publications some puppy food and a small "start kit" that will give you and your puppy a good start.

But most important of all, you buy a puppy from a breeder with 30 years of experience of the breed, a breeder who stands behind you through the dog's entire life.

Besides all this, we try to arrange "six-month puppy meetings", kennel meetings, mentality tests and we will also give you help with grooming and show support.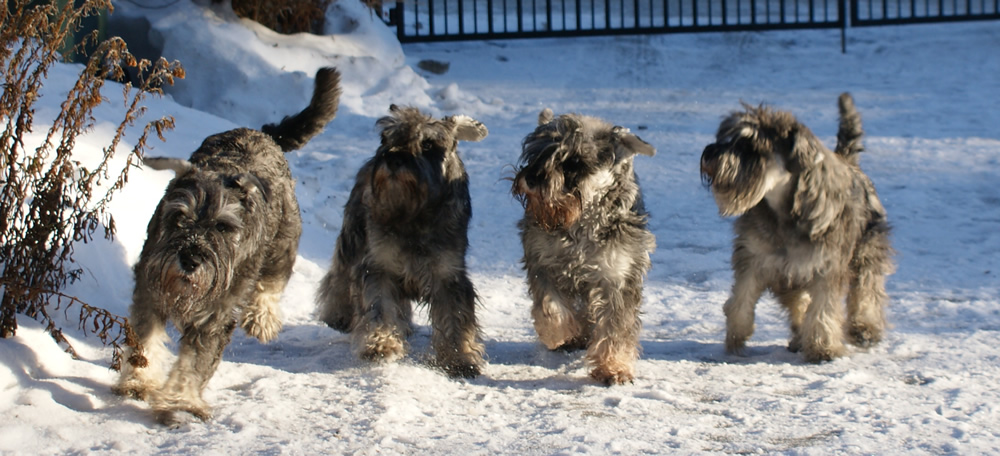 Clura and three of her pups in the Mini B-litter at the 6 month meeting

Mentality test