Hamilton Plaquette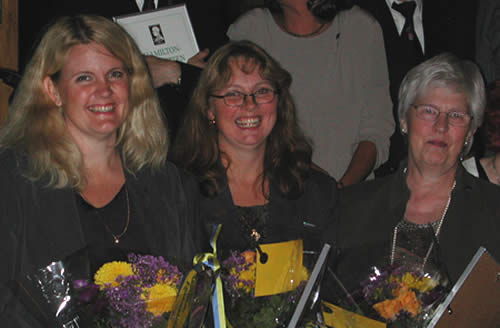 The three founders of Kennel Argenta: Gunilla Garpås, Boel Niklasson and Birgitta Andersson
Awarded with
The Swedish Kennel Club's Hamilton plaquette 2003
THE HAMILTON PLAQUETTE
The Hamilton plaquette is The Swedish Kennel Club's
prestigeous mark of distinction for breeders. It's awarded to breeders who
through successful breeding to a great degree benefits the object of the
society. To be nominated for receiving the Hamilton plaquette, the
breeder must have had an active breeding for more than 10 years. Among Sweden's 12 000 breeders, The Swedish Kennel Club choose every second year 10
receivers of The Hamilton plaquette. The Hamilton plaquette was instituted in the year 1910 by the Swedish Kennel Club in memory of the founder
of the club and it's first chairman, court forester count A. P Hamilton.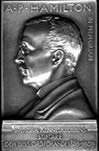 HAMILTONPLAKETTEN
Hamiltonplaketten är Svenska Kennelklubbens främsta
utmärkelse för hunduppfödning. Enligt statuterna "kan plaketten tilldelas den
som genom framgångsrikt arbete gagnat hundaveln och härigenom i hög grad främjat
klubben". För att komma i fråga för Hamiltonplaketten skall mottagaren
ha haft en aktiv uppfödningsverksamhet under minst 10 år av aktuell ras. Utöver
avelsresultaten bedöms även hundhållningen. Hamiltonplaketten delas ut
vartannat år i samband med Svenska Kennelklubbens kennelfullmäktige.
Bland Sveriges 12 000 hunduppfödare väljer man vartannat år ut ca 10 stycken mottagare
av Hamiltonplaketten. Hamiltonplaketten instiftades år 1910 till minne
av klubbens stiftare och förste ordförande hovjägmästare Greve A.P Hamilton.