May 2011
Swedish Kennel Club International Show
Vallentuna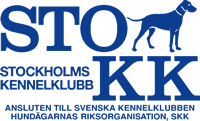 Judges
Standard Schnauzer: Viv Soleckyj Szpunar, Poland
Minis: Elaine Whitney, Canada
Best in Group: Kresten Scheel, Denmark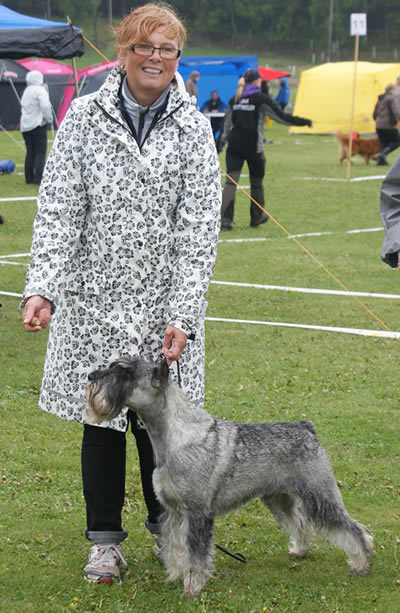 Ch Borodatij Djavol Graf Kaliostro "Kolja" Best of Breed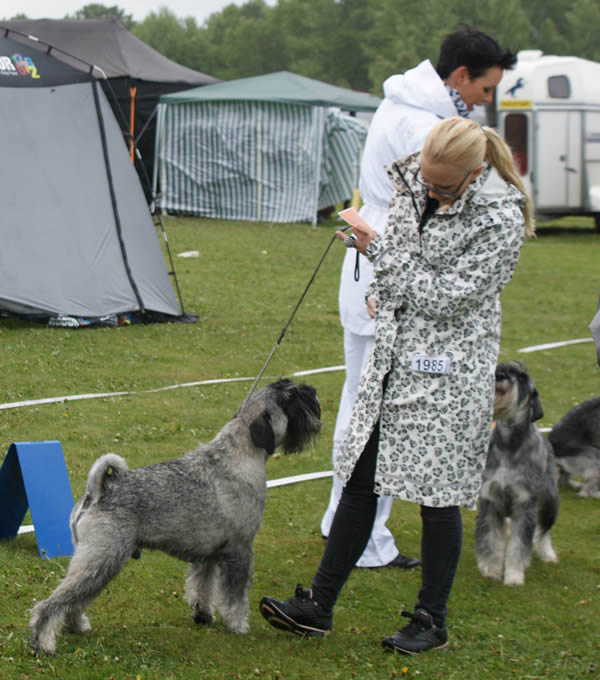 Ch Argenta's Flanagan "Primo" second best male with CAC
Ch Von Roth's Fanfare "Caper" second best female and Veteran BOB
Ch Argenta's Brittany excellent 4
Argenta's Mini Challenger "Chase" Puppy BOB
Argenta's Mini Brilliant "Mira" excellent CK fourth best female from junior class
Zylvan Amber excellent ck open fourth
Both Caper and Chase were picked but not placed in the veteran and puppy group
We were a bit stressed when we saw that group number 2 were judged as second group at the show.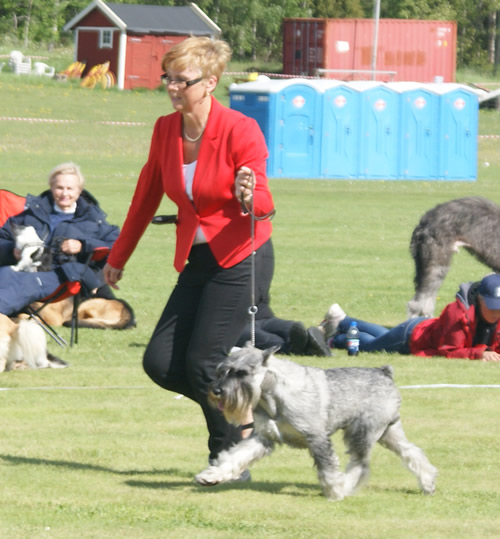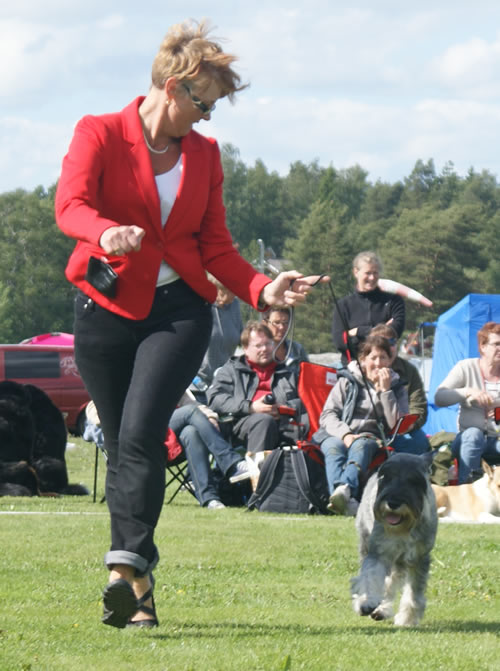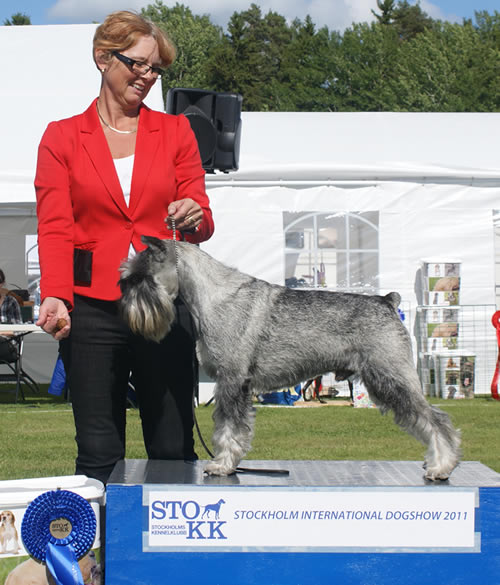 Kolja became
Best In Group 2!
We asked the nice STOKK team if they could change and let group 2 be the first group judging
as we had to go back north to the Best in Show final in Österbybruk.
They did so and Kolja went into the ring for the group judging, mean time all our friends packed all the things so when Kolja were done in the ring we run back to the car, people called the show team in Österbybruk and told then that we were on our way to the best in show final.
We drove fast and when we arrived to the show in Österbybruk all the nine finalist were waiting
for us so that they could enter the ring.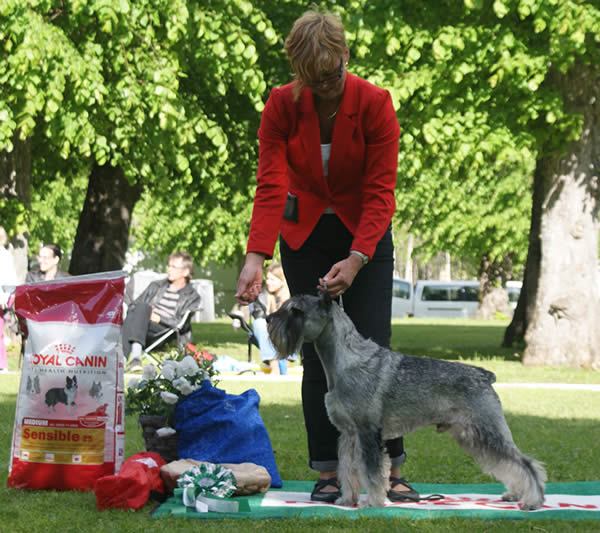 Kolja and I run from the car directly into the ring and we were lucky to be placed
BEST IN SHOW 4!!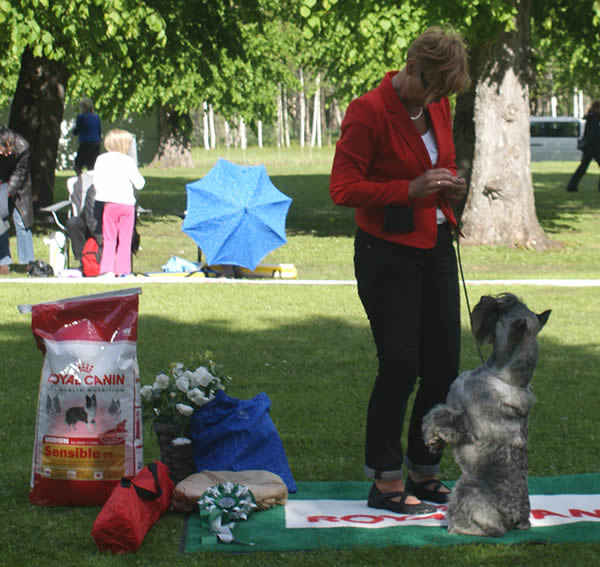 We really had a busy and a wonderful weekend
Thank you all! family, friends and judges
Swedisk Kennel Club National Club Show
Österbybruk 

Judges
Standard Schnauzer: Birgitta Hesselgren, Sweden
Miniature Schnauzer: Anders Tunold-Hanssen, Norway
Best in Group: Per Svarstad, Sweden

Argenta's Mini Challenger Best of Breed Puppy and picked but not placed in the finale ring
Argenta's Mini Brilliant out on her first showexcellen and second in the junior class
Zylvan Amber excellent

Ch Borodatij Djavol Graf Kaliostro Best of Breed and
Best in Group
Ch Von Roth' Fanfare Best in Opposite Sex
Ch Argenta's Brittany excellent third best female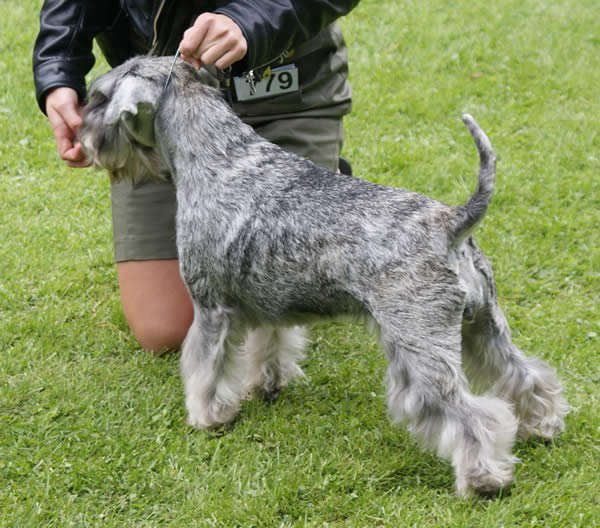 Zylvan Amber "Clura"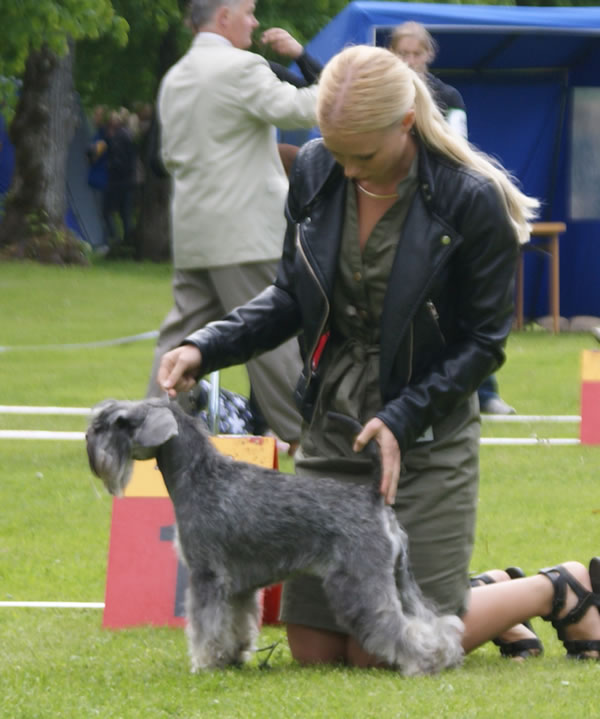 Argenta's Mini Brilliant "Mira"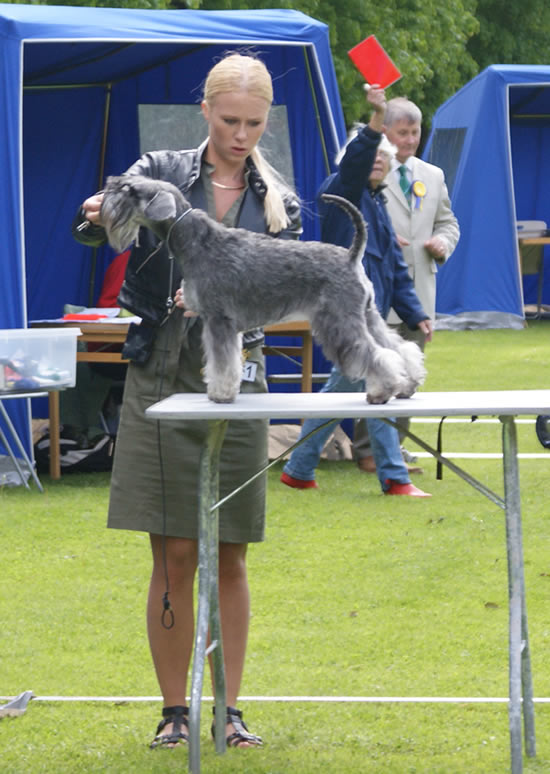 Mira

Caper BOS and Kolja BOB here with judge Birgitta Hasselgren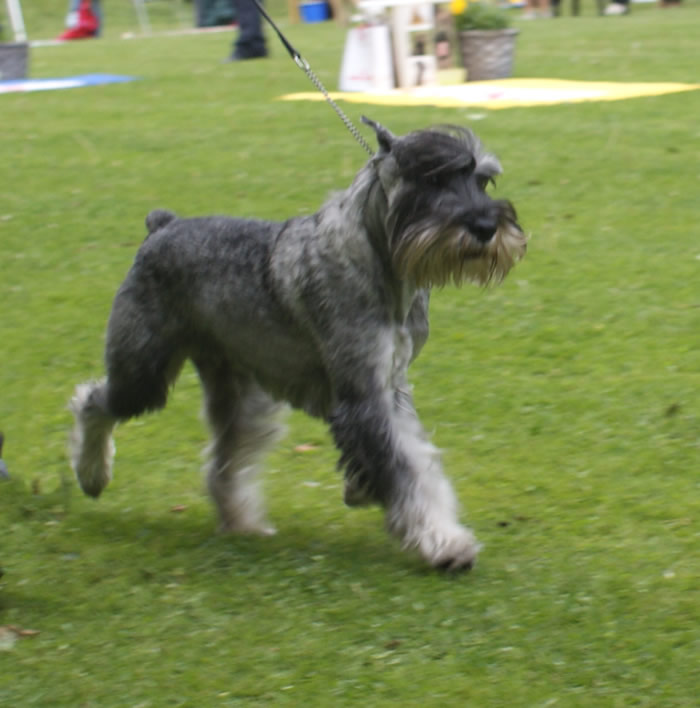 Kolja running into the group

Judge Per Svarstad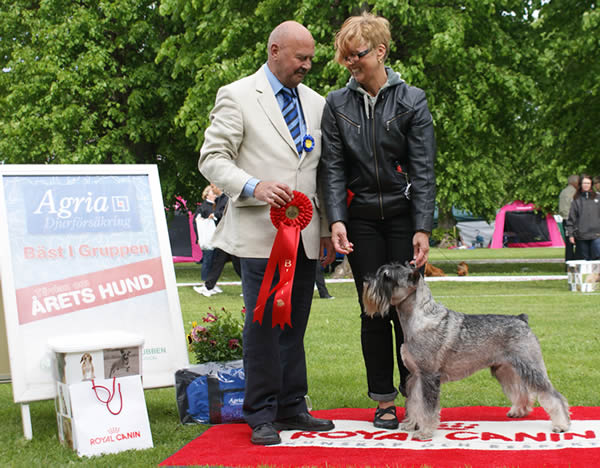 Swedish International Kennel Club Show 
Hässleholm
May 22nd 

Judge Standar and Mini Schnauzer: Nils Jordal, Denmark
Veteran Group final: Ann-Christin Johansson, Sweden
Puppy Group final: Kresten Scheel, Denmark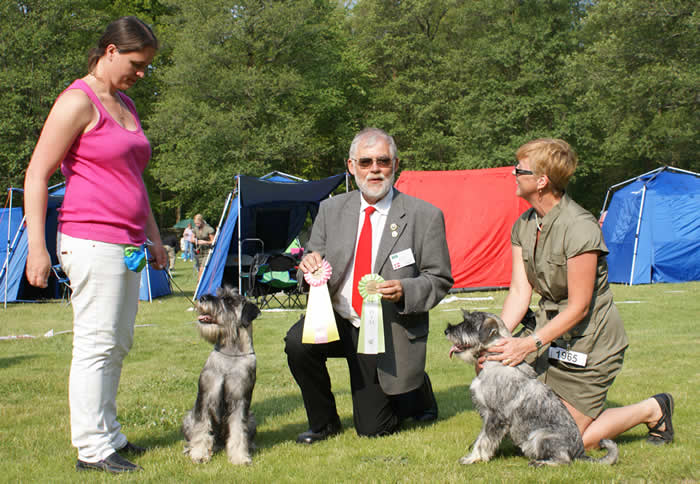 Puppy Best of Breed Argenta's Huckleberry
Best in Opposite Sex Argenta's Havanna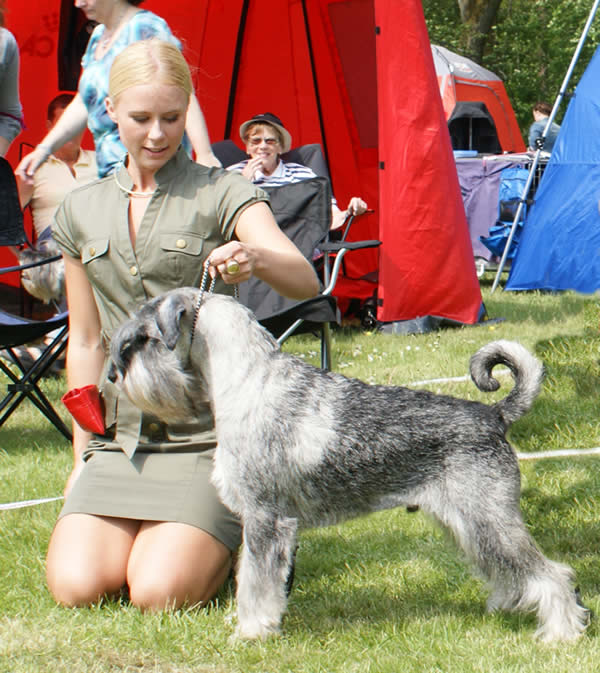 Best Champion male with CACIB, the International championtitle and Best of Breed
Swe, Fin & Norw Ch Argenta's Culpepper
Second best male, excellent Ch Borodatij Djavol Graf Kaliostro
Argenta's Eleonor fifth open female with excellent
Ch Argenta's Brittany second in champion class placed i best female class with excellent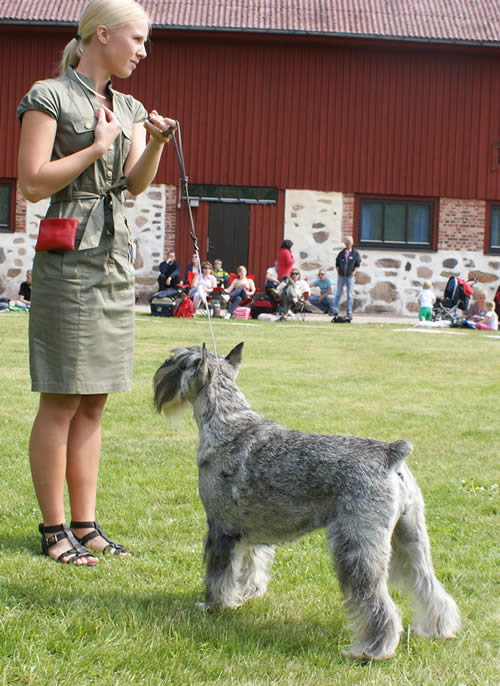 Von Roth's Fanfare Veteran Best of Breed, second best female, excellent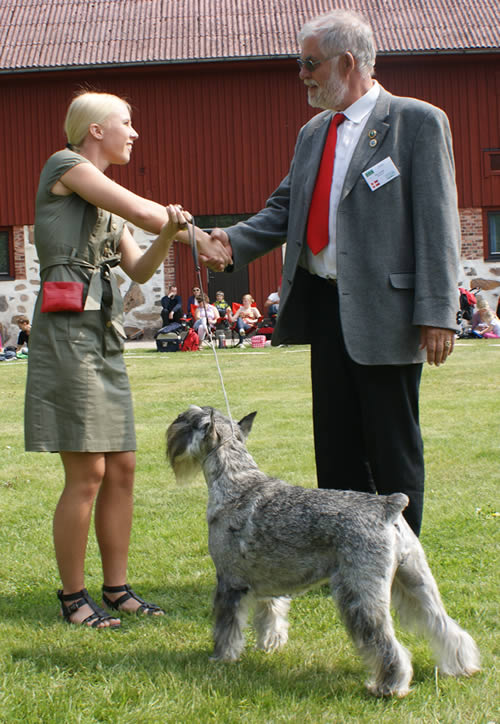 Caper, Caroline and judge Nils Jordal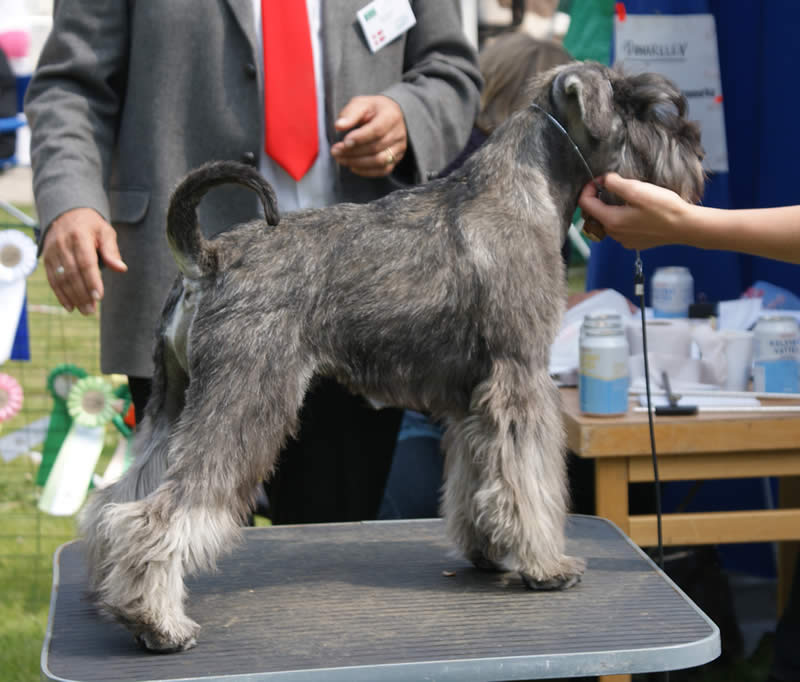 Argenta's Mini Challenger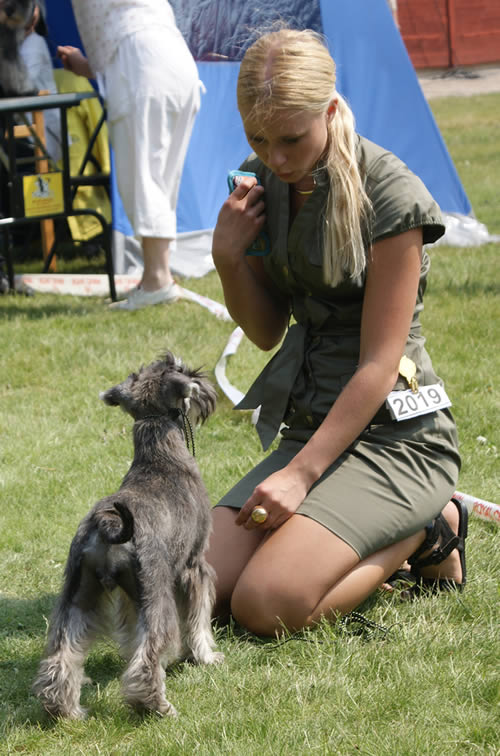 Argenta's Mini Caprice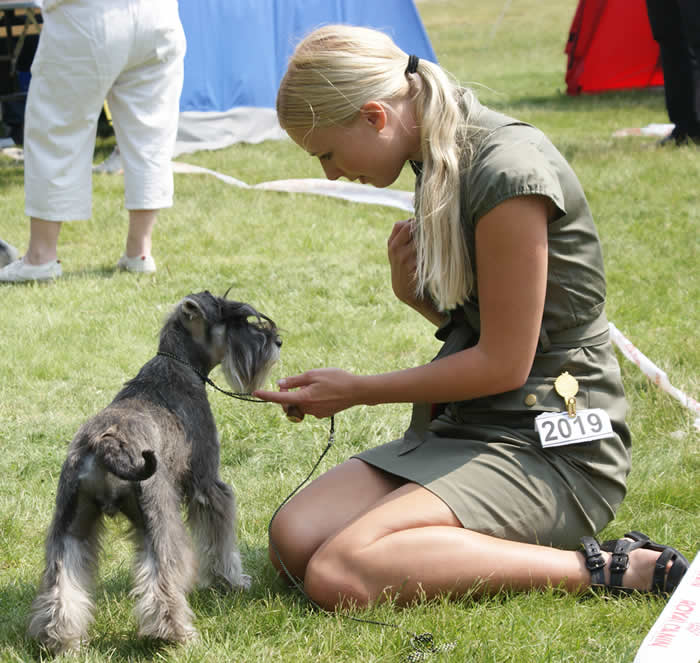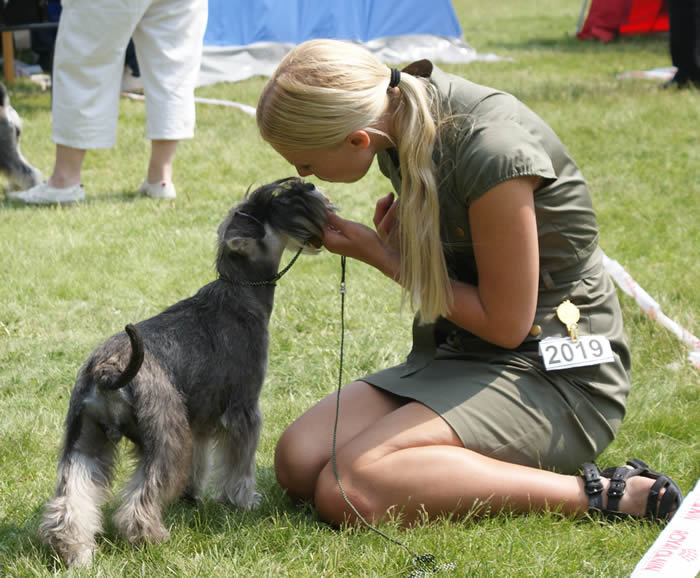 Argenta's Mini Caprice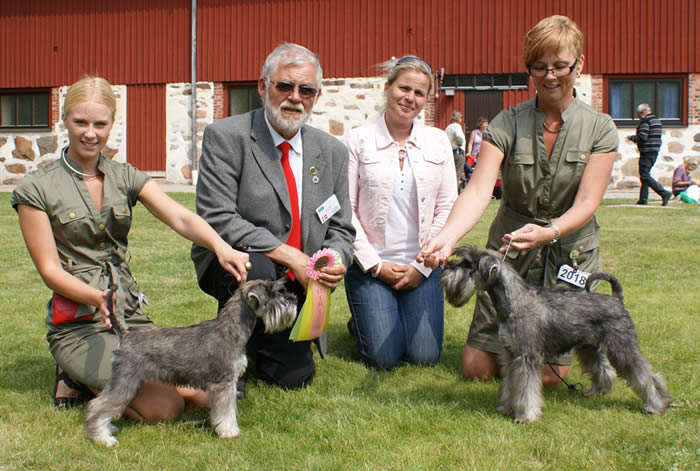 Argenta's Mini Challenger Puppy Best of Breed
Argenta's Mini Caprice Puppy Best in Opposite Sex
Judge Nils Jordal, judge in training Jeanette Lemmeke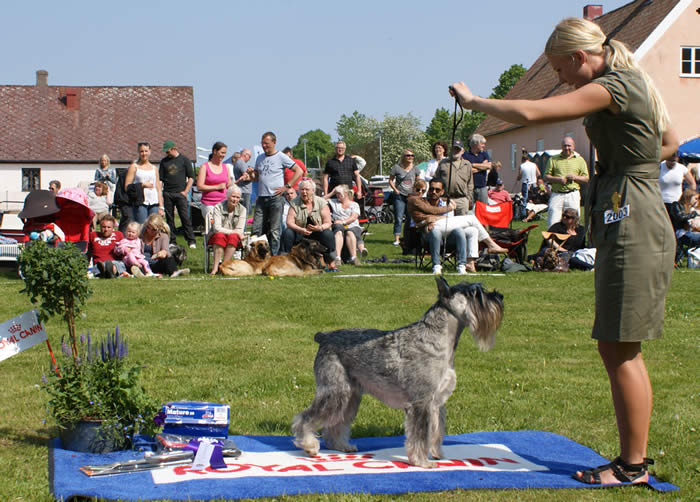 Caper and Caroline winning
Veteran Best in Show 2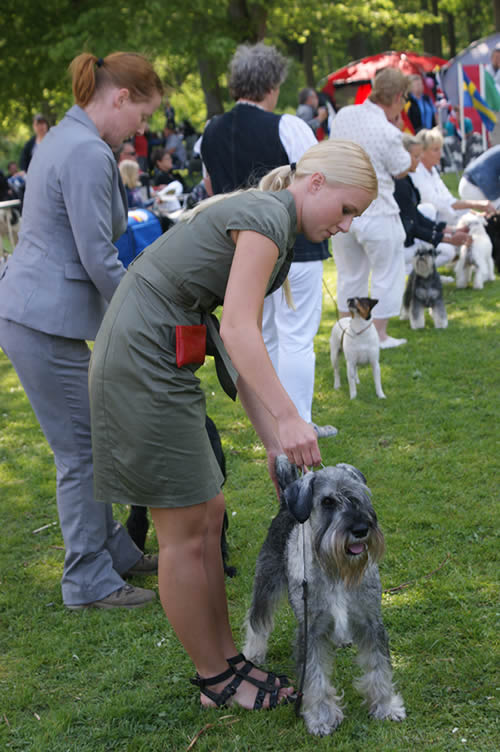 Argenta's Culpepper was picked among the six best dogs in FCI Group 2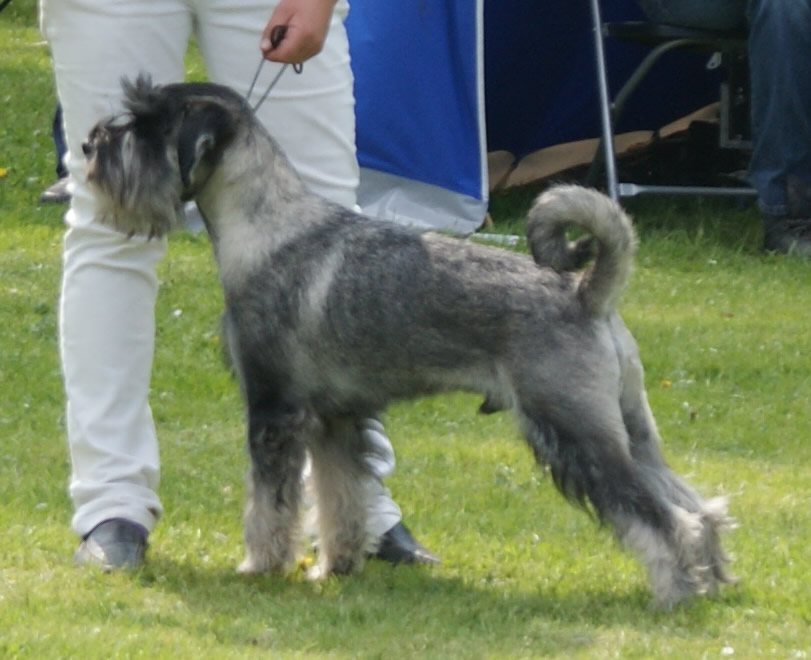 Argenta's Huckleberry was among the 10 best puppies i the final ring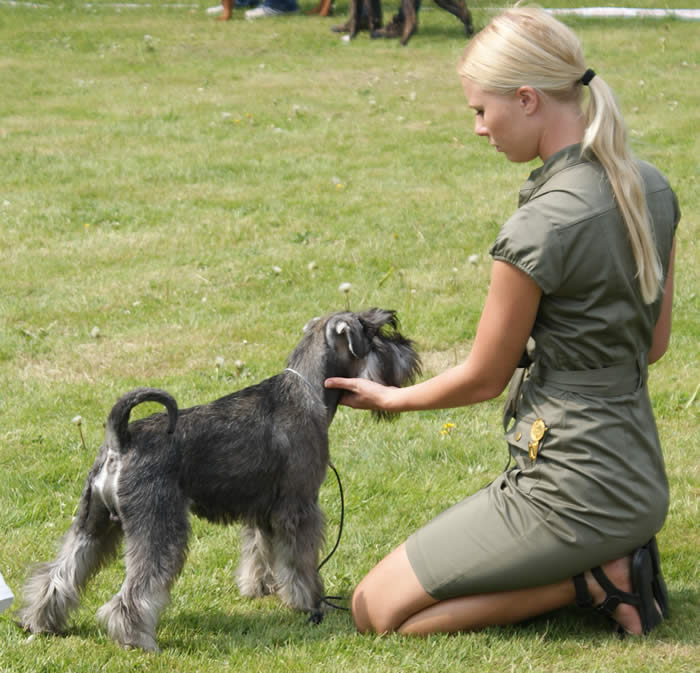 "Chase" Argenta's Mini Challenger in the line up in the final Puppy Group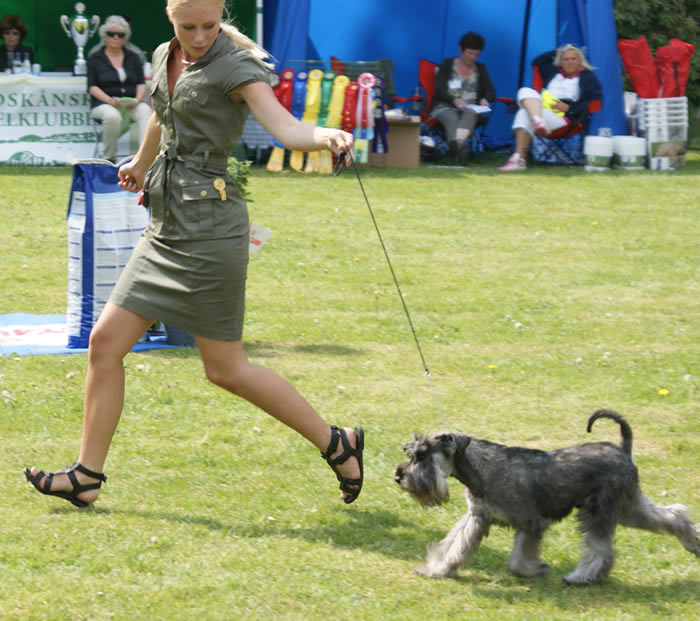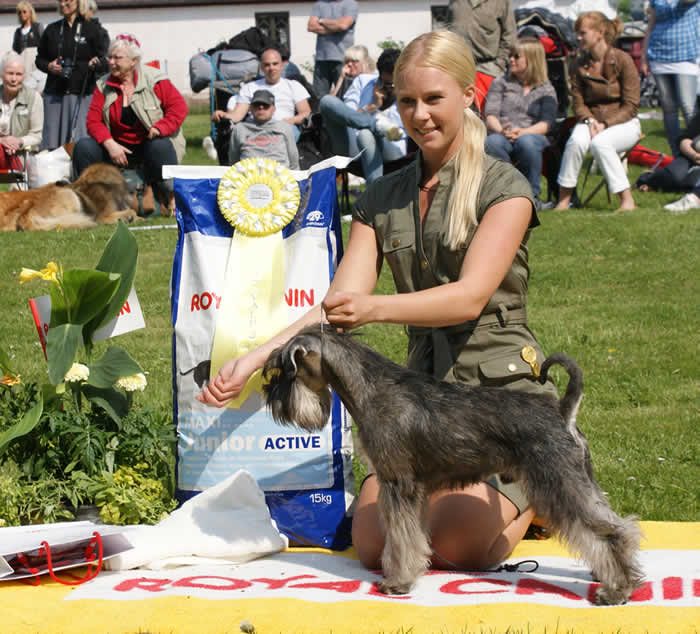 Chase winning Puppy Best in Group 3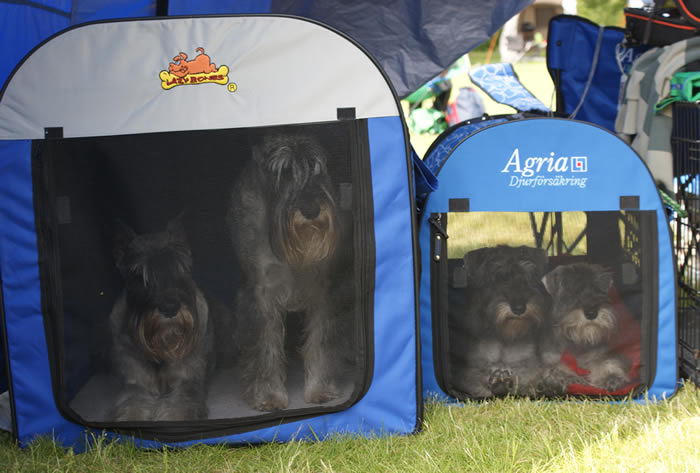 Swedish Schnauzer Pinscher Club Show 
Hässleholm
May 21th 

Judge: Standard Schnauzer Chatarina Almroth, Sweden
Puppy Best of Breed and Best in Show 4
Argenta's Huckleberry
Best in Opposite
Argenta's Havanna
Ch Argenta's Culpepper second best championmale
and third best male with excellent
Ch Borodatij Djavol Graf Kaliostro Best of Breed
Kolja's daughter Adiolas Delicia
Junior Best of Breed and Junior Best in Show 4
Argenta's Eleonor third in open
Ch Argenta's Brittany second in champion females with excellent
Ch Von Roth's Fanfare Best in Opposite Sex and
Veteran Best in Show 2
Argenta's Mini Challenger 1 in puppy class
Argenta's Mini Caprice third in puppy class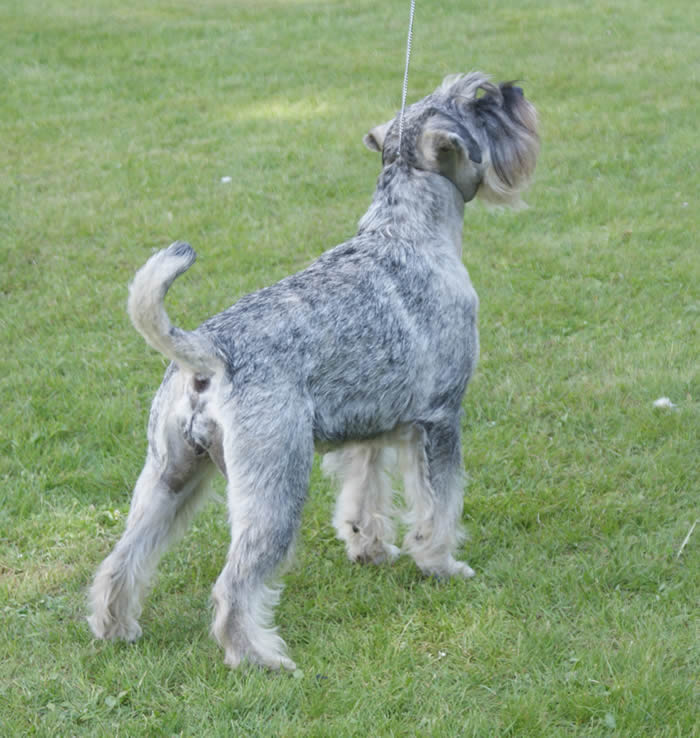 Ch LP I & LP II Argenta's Brittany 
Mother and daughter, Caper and Bella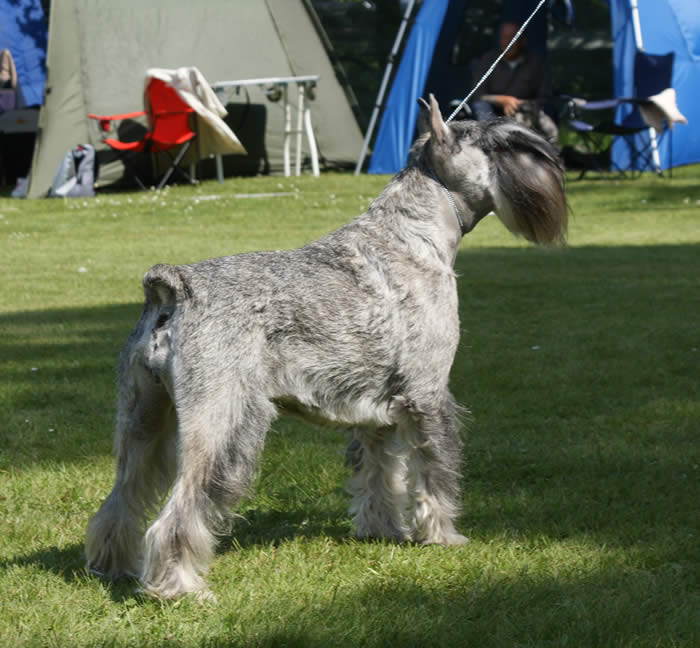 Multi Ch Von Roth's Fanfare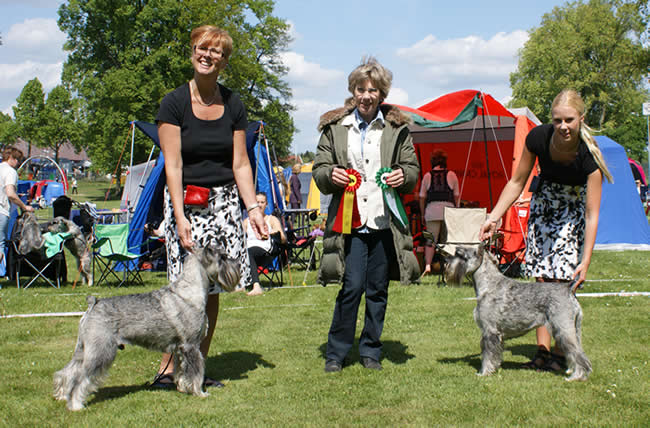 Kolja and Caper together with judge Chatarina Almroth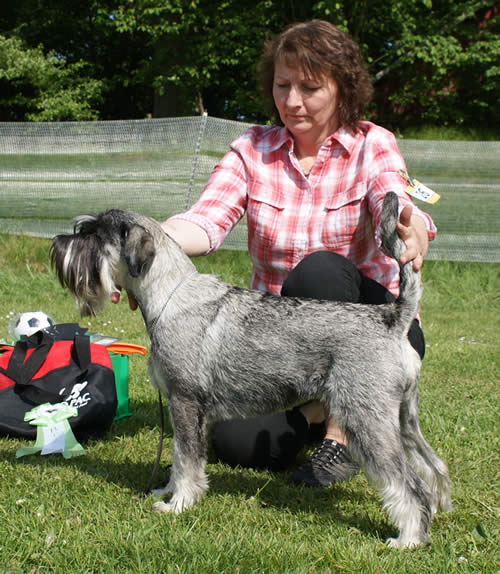 Kolja's daughter Adiolas Delicia, here with Monicia Wogenius, won Junior Best in Show 4
and his son Argenta's Huckleberry won
Puppy Best in Show 4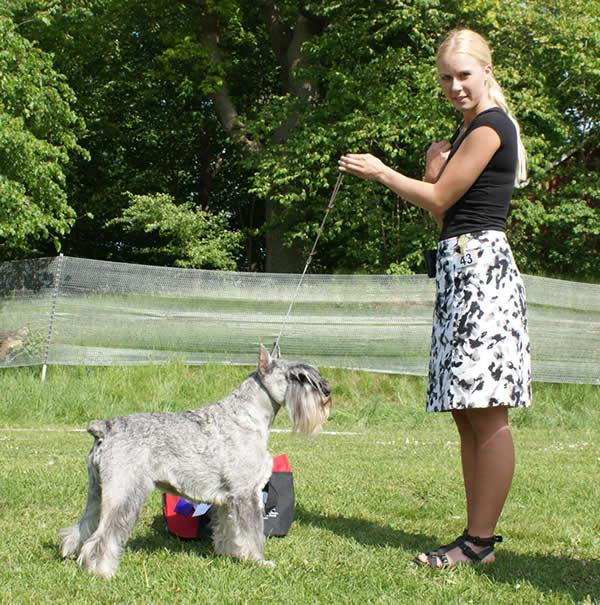 Caper winning
Veteran Best in Show 2