Mars 2011
26th of March
Swedish Doberman Club
Match Show in Stockholm
We entered our Mini C-litter 4 puppies out of 6, just for training.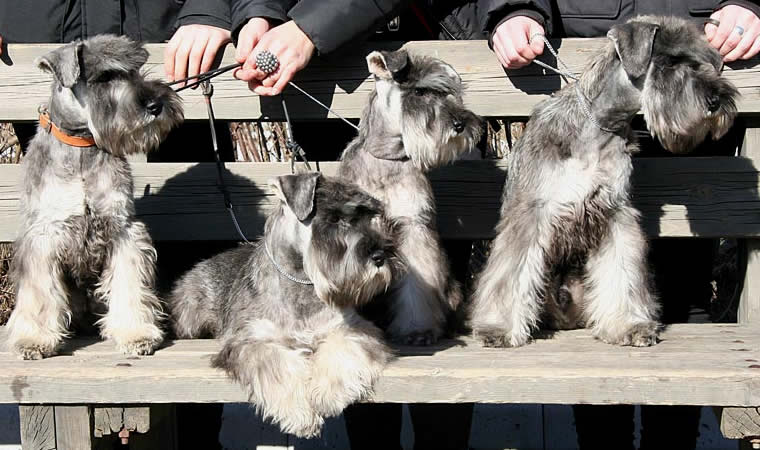 From the left Argenta's Mini Coltrane "Colle", Argenta's Mini Chapman "Morris", Argenta's Mini Caprice "Tess" and Argenta's Mini Challenger "Chase" they are now 5 month old.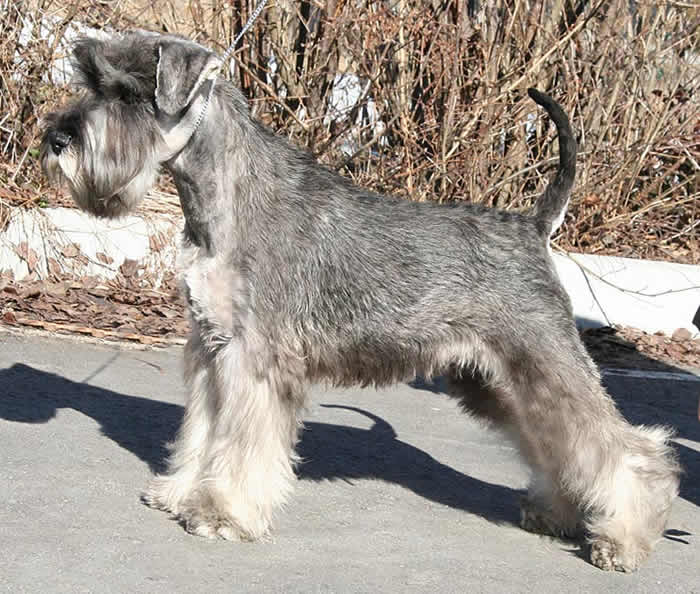 Argenta's Mini Chapman
third best male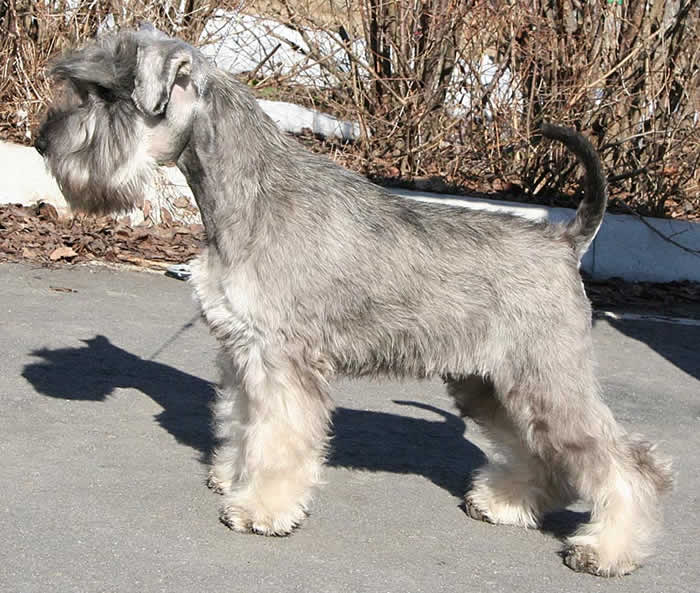 Argenta's Mini Coltrane
second best male

Argenta's Mini Challenger
best male and Best in opposite Sex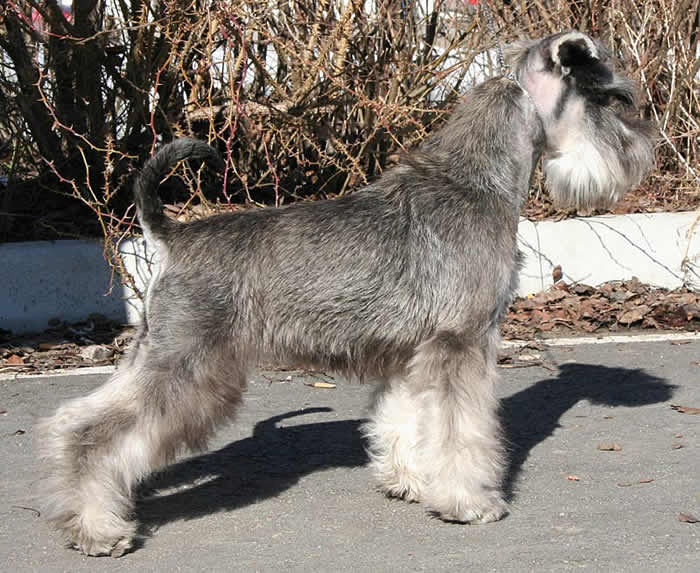 Argenta's Mini Caprice
Best of Breed and BIG II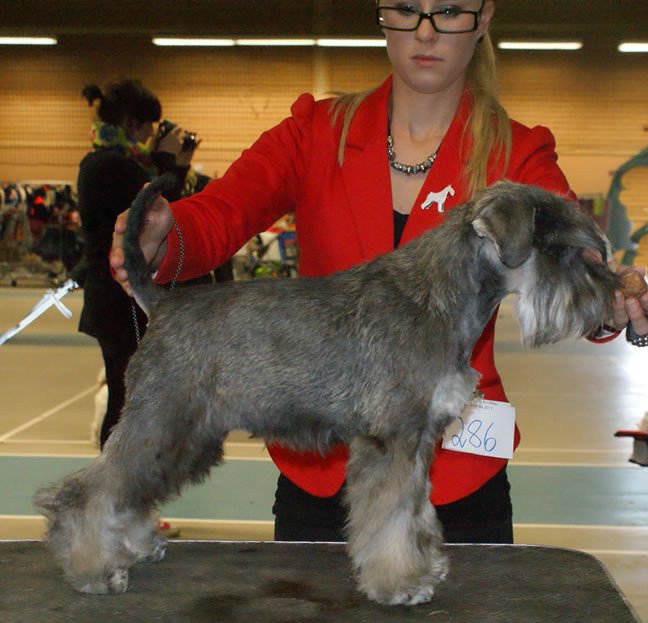 Caprice BOB Puppy
20th of March
Swedish Kennel Club International Show in Malmö

Schnauzer judge: Catharina Almroth, France
Veteran judge: Alenka Pokorn, Slovenia
Group judge: Paula Heikkinen Lehkonen, Finland33 standards

This show year really started well with wonderful wins!

Caroline were first out in the ring showing Adiolas Bór Bure. Caroline has showed "Grim" four times and they now gor their third CAC and that gave them the Swedish Champion title. They also got the CACIB and were placed second best male. Grim is out of Ch Argenta's Utrillo and Ch Argenta's Adiola.

Kolja became best male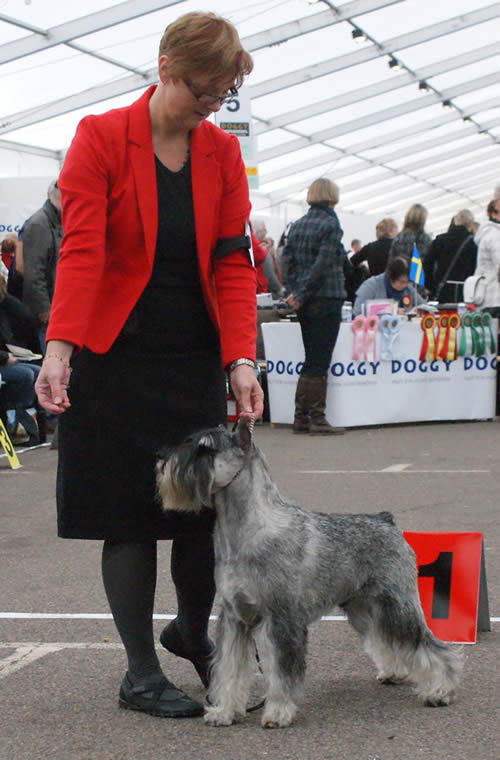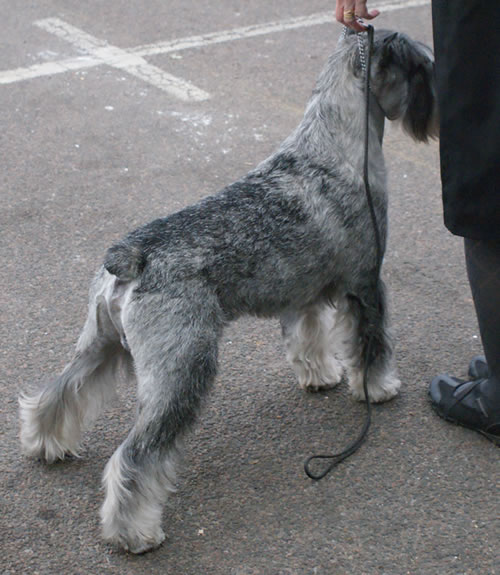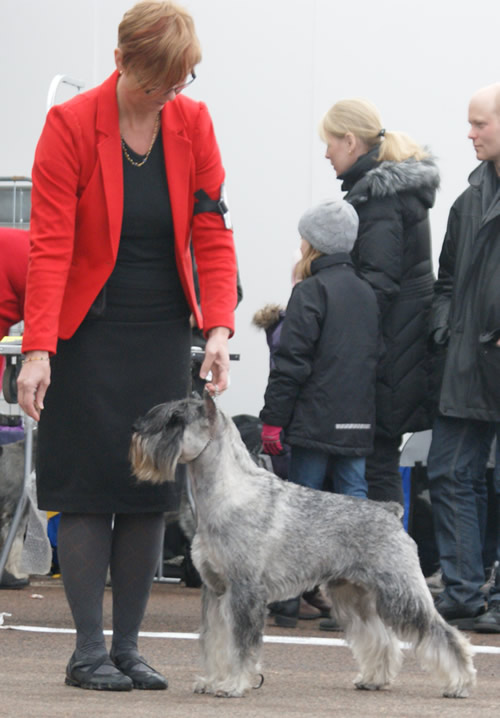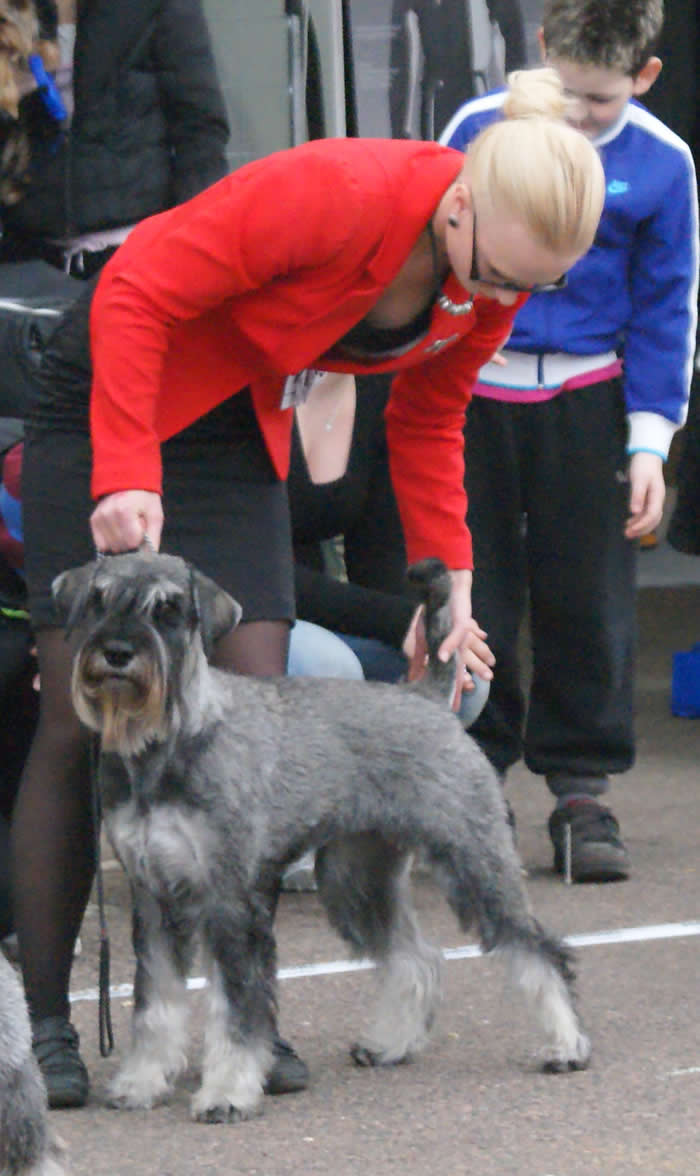 In the open females we had Argenta's Eleonor she came second with excellent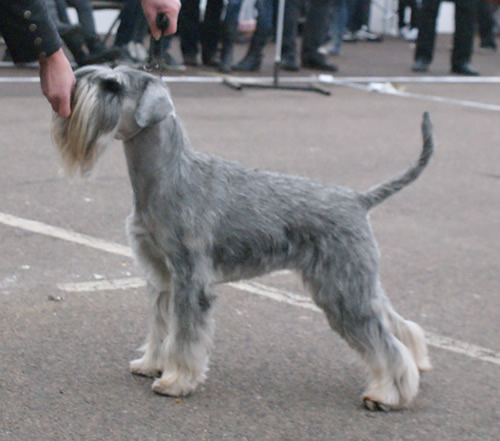 Ch Argenta's Wakanda came third in the champion class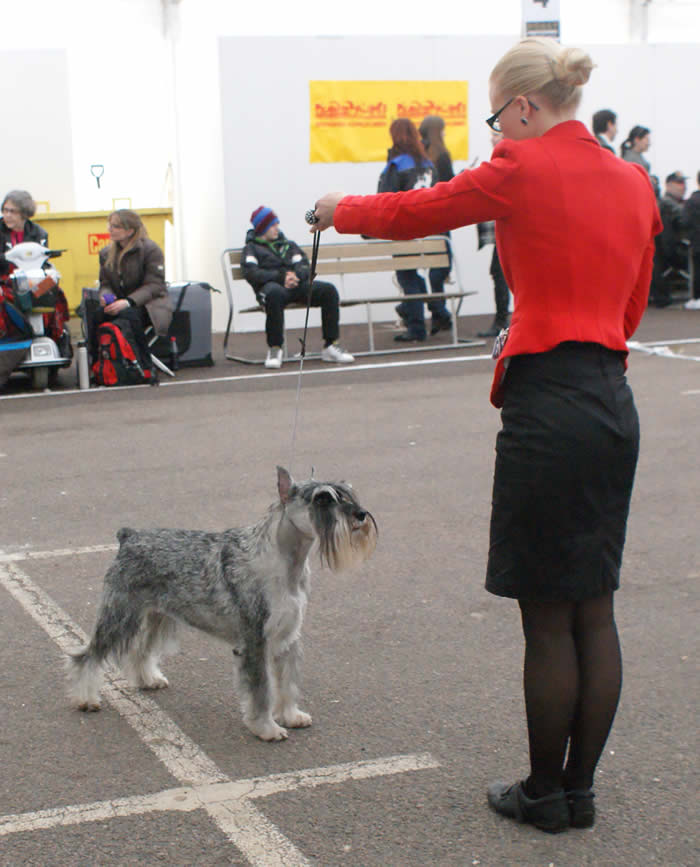 Caper won the veteran class with excellent, was third best female and Veteran BOB

Kolja Best of Breed here with judge Catharina Almroth and BOS Estellet's Happy-Case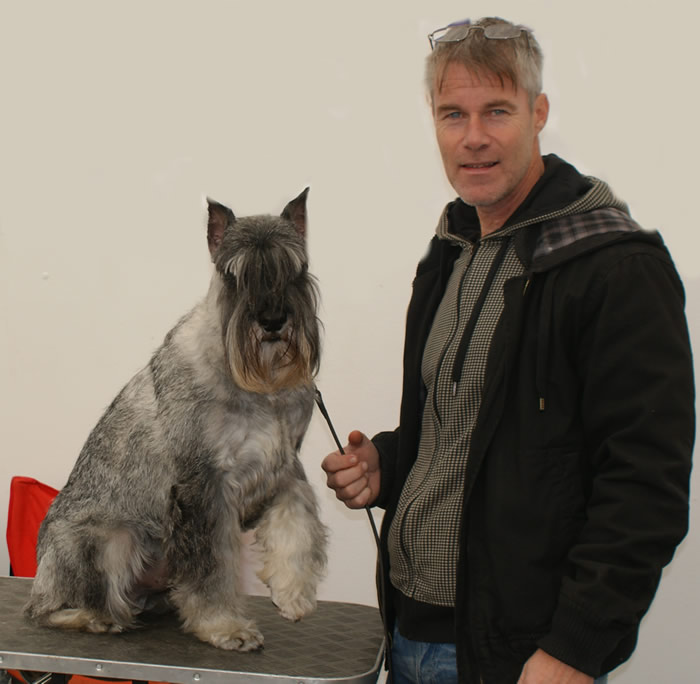 Kolja and Mikael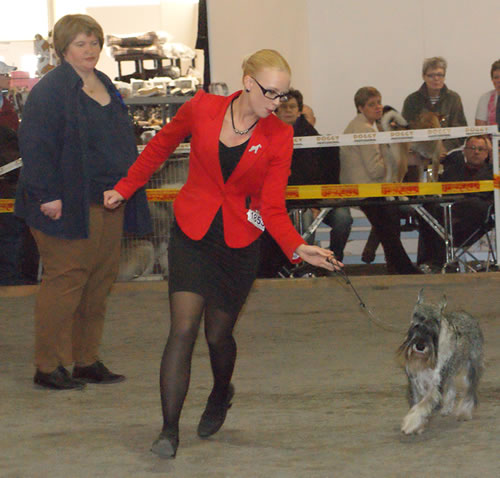 Caper and Caroline in the Veteran final ring,
with judge Alenka Pokorn in the background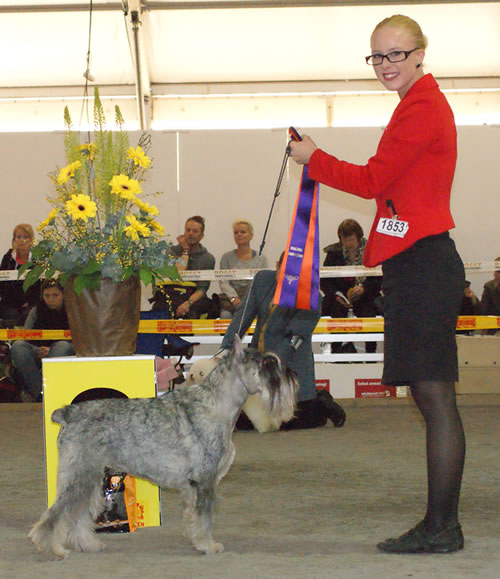 Caper winning Veteran Best in Group 3
Caper celebrated her 10th birthday just couple of days before the show.
She is really still going strong.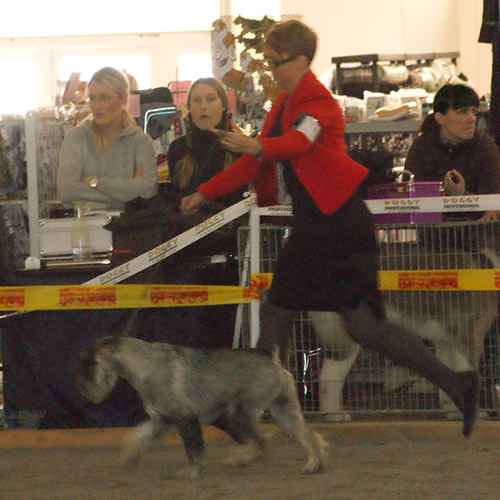 Kolja entering the final ring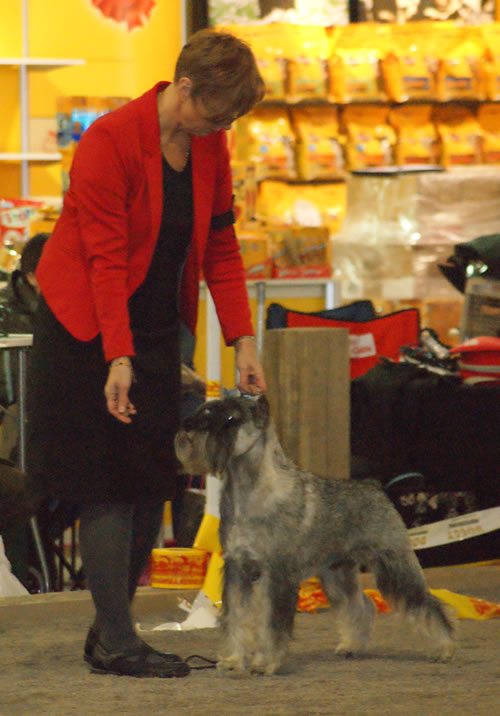 Kolja winning a Group 3
11th of March
On our way down to Malmö we met Ch LP I & LP II Argenta's Brittany
She looked great even if she wasn't groomed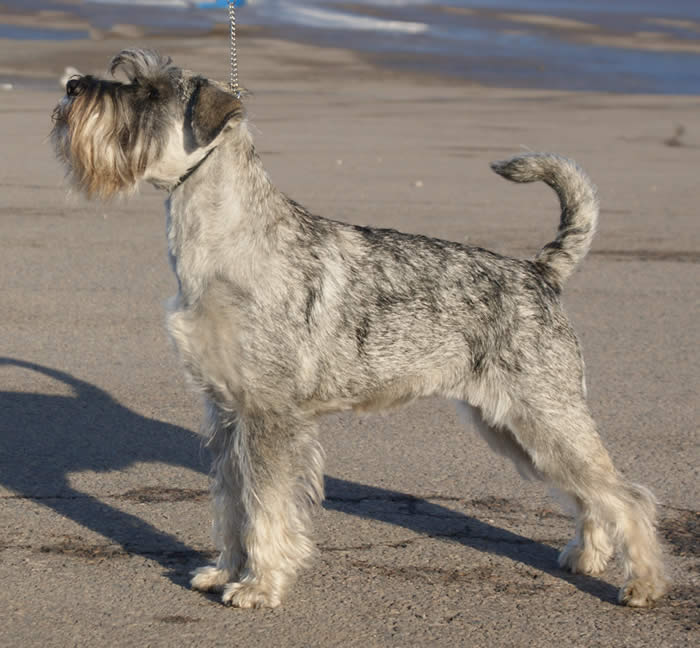 12th of March
Swedish Schnauzer Pinscher Club Specialty
Annual Meeting
The Schnauzer of the Year 2010
The 3rd Best Dog in FCI Group II in Sweden 2010
The 17th Best Dog all Breeds in Sweden 2010
Swedish Champion, Estonian Champion, Latvian Champion
Swedish Winner 2009
Estonian Winner 2009
Multiple Best in Show Winner

Borodatij Djavol Graf Kaliostro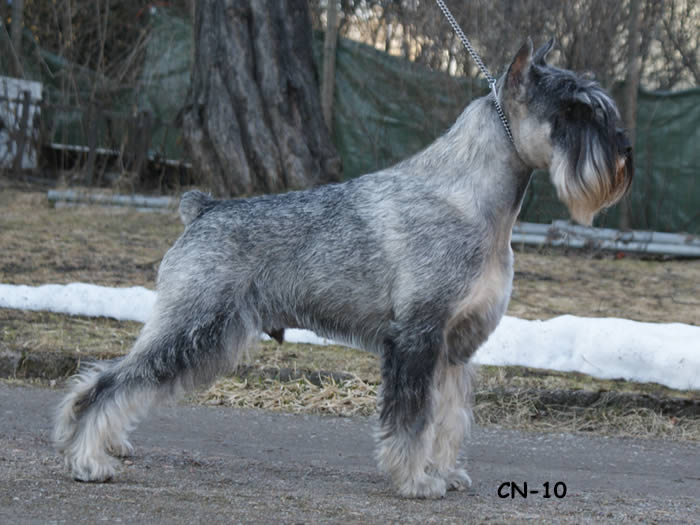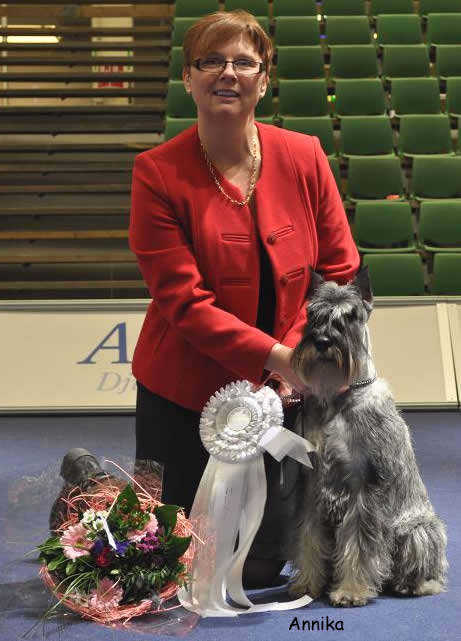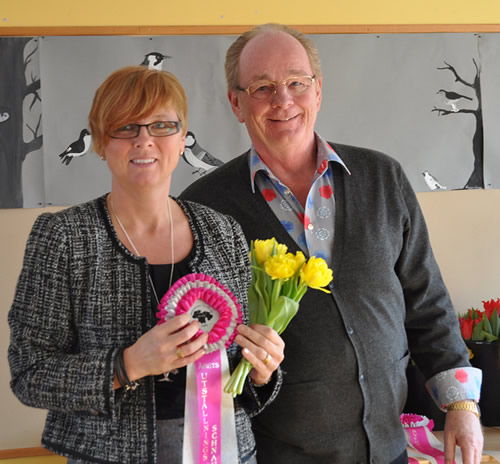 Boel and the president of the SSPC Åke Ericson

The Best Veteran all breeds in SSPC 2010
Among the most winning veterans all breeds in Sweden 2010
Multiple all breed Veteran Best in Show
International, American, Swedish and Estonian Champion 
European Winner 2005, World Junior Winner 2002
Swedish Winner 2003 and 2004
Caroline has within a couple of years learnt to groom all our dogs
and has been doing a great work. Thanks to her we always have nice and well prepaired dogs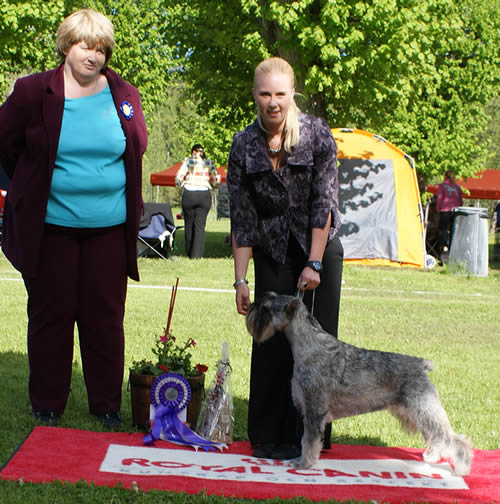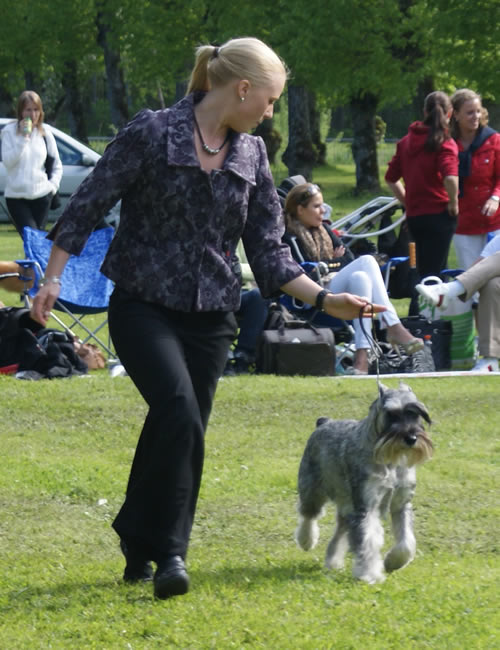 Caroline and Caper has been a Dream Team during 2010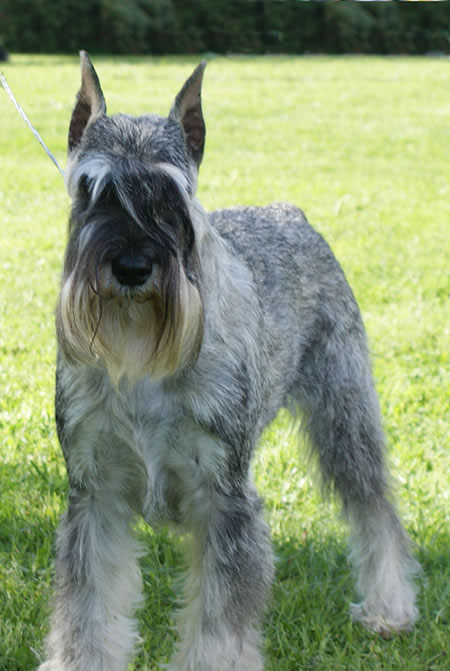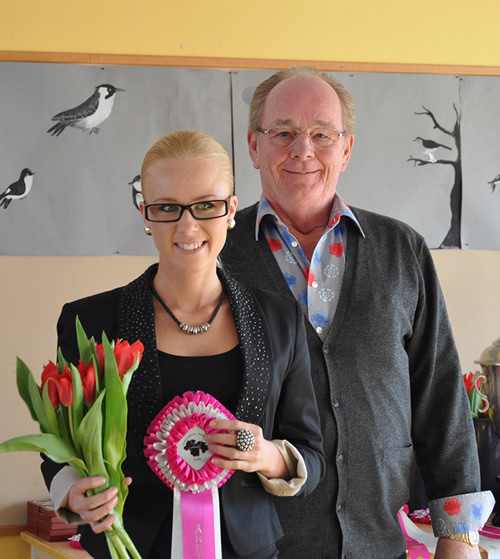 Caroline and the president of SSPC Åke Ericson
Obedience Dog of the Year 2011,third place
Swedish Champion, Nordic Winner'07,
LP I & LP II & LP III,
Swedish Obedience Champion
owner Jens Johansson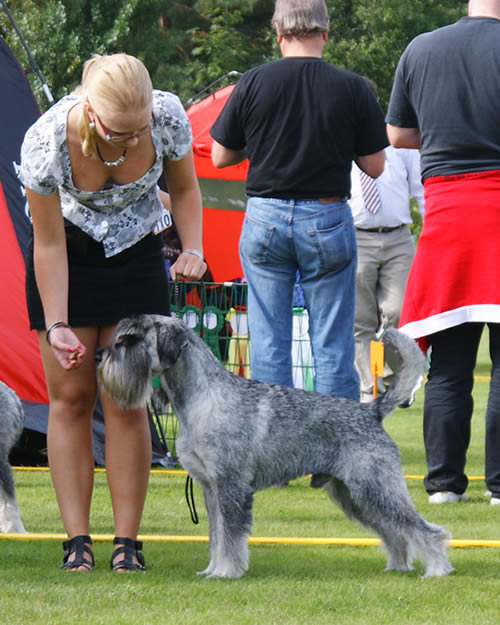 Allround Dog of the Year 2011, 7th place
Bloodtracking Champion
Argenta's Mini Antonov 
owner Margareta Johansson
March 7th
Mikael came home from Africa and we went to Karlstad for couple of days.We made a visit to Filipstad and met LP I & LP II Argenta's Yellowstone
I was so happy when we saw him as he really has matured since we saw him last time. "Ozzy" has a diploma in obedience class I & II, he is qualified in lower class tracking and has moved up to higher class in tracking. His mentality test was great and he has A/A hips.
He also have Certificate and CACIB in the showring.